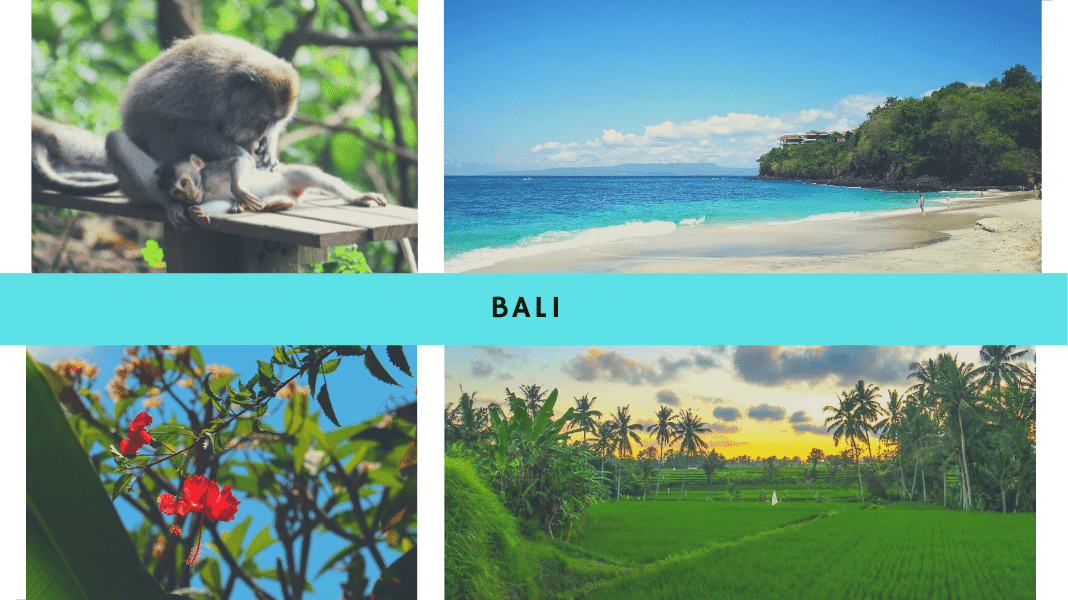 Bali
21/06/2019
Now that we are ready to go, and that you're aware about the biggest scam I know (granted, I don't know much obviously about Indonesia), I can finally write about the trip itself! Let me tell you that it's much more enjoyable. I will divide the trip in 3 sections, the one I did already about Mount Batur, this one about the main island of Bali and lastly one about the paradisiac islands.
We land in Denpasar where we only spend one day. I gotta say that for a big city, since there's plants everywhere, it looks prettier. Also the architecture is interesting. I mean, it is still ugly, but in a pretty way if I may say so myself.
Anyway, there's not much to do there, except going to Canggu which is good for partying and surfing, so we are not really interested. Therefore, we quickly move onward Ubud. We are amazed. Something I notice in Bali is a sense of beauty, with pretty flower arrangement everywhere.
Ubud is a centre of arts and culture, known for its temples and rice fields. We can easily spend a week, and some people even stay months. Yet, we only stay three days.
We start the town visit with the most famous place there: Sacred Monkey Forest.
Usually, we don't really like these kind of places but monkeys there are free and can come and leave however they like.
It's quite a big park with a temple and a lovely walk, perfect to train taking pictures, especially as I bought my new Canon 70D in Australia!
On the next day, for the very first time we're renting a scooter. For the very first time, I am driving a scooter. It sounds crazy but scooter is the best way to travel around. I am the assigned driver for the whole Asian roundtrip, as Aurelie doesn't trust her driving abilities enough.
First stop is Tegenungan waterfalls, about half an hour away from the town centre.
Heaps of tourists but we ought to meet some people from the USA in a club above the falls.
The place is really relaxing and gives luxury vibes, which obviously we are not used to at all, in our infinite pool with a view.
On the parking, whether on arrival or when leaving, we meet a really nice local who advise us to go visit a coffee farm for free. Thus, on our scooter we proudly slowly -as I still need to get used to driving on these crazy roads-  go to Griya Asri farm.
A lady leads us to the short free instructive visit with at the end a free tasting of 6 coffees and 6 teas. What's the trick now? There's none, and that's awesome! The only thing is that you can order a Luwak coffee for about AU5$. The beverages are not the only amazing thing, while drinking we have a view on the rice fields truly marvelous. Moreover, we have the chance to be there at sunset. And on top of that, we're even given some -tiny- delicious chocolate chunks.
What makes Luwak coffee so special is that the coffee cherries are eaten by a Asian palm civet (known as Luwak in Bali, hence the name), then they collect the cherries in the excrements and let them dry before roasting them. As we see the animals in the cage, we ask about their conditions, apparently these little guys are allowed to go out at night and just come back in the cage when it's time to eat.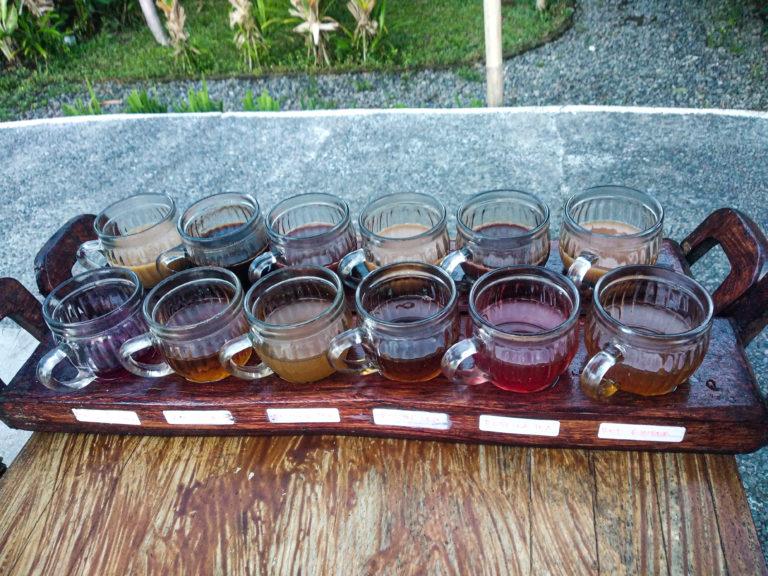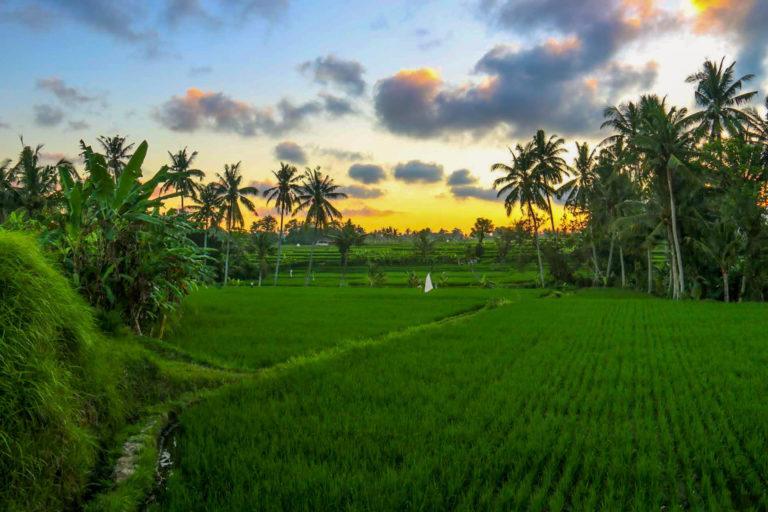 That night, we go to a night market, always a good idea to eat a cheap but good meal. It's also a good way to experience the local life in my opinion. For the first time, I try the avocado shake ; I have to admit that I would have thought it would have been better as I adore avocado.
The exploration of the surroundings is still not over, like I said, I think it's pretty easy to spend a week here.
Now, we are heading to Campuhan Ridge Walk, a short walk within beautiful sceneries. The walk itself is not really hard but there's barely any shadow and we didn't bring any water with us… Anyway, that's a good excuse to order a banana milkshake, which we probably drank by dozens in South East Asia.
Tegallalang Rice Terraces
On the same day, we go to Tegallalang, famous for its rice fields. Famous seems to be weak of a word as so many tourists are here, mostly Japanese and Chinese (not that it matters, just an interesting fact). Indeed, the place is pretty but I don't think it is worth the struggle of such a crowd. When we try to go on the other side to walk along the fields, we are asked to pay a mandatory donation. We just paid the entry and parking fees, so again? Somewhat doubtful, we discuss and observe everyone paying this fee without a second thought. Are we so greedy? To be honest, I don't think it has anything to do with greed, but I think that most people don't think twice and I believe that we should always at least wonder where this money is going to (you know, like Mount Batur perhaps? Yes I'm still traumatised!). In the end, we decide not to pay.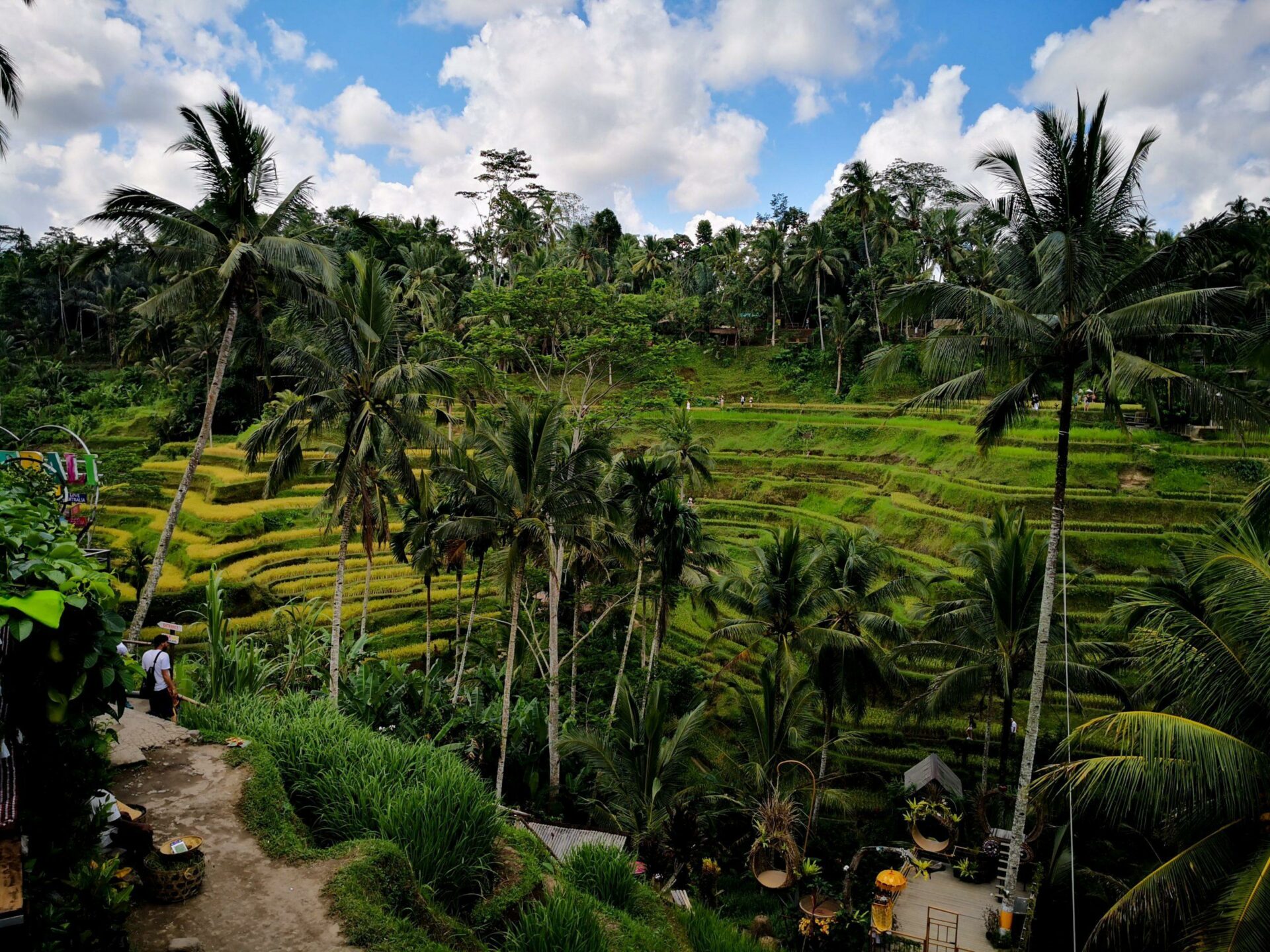 On arrival, as I said earlier, we have been asked to pay a parking fee. Nothing so surprising, right? Except that later while talking with someone from our hostel, we learn that he didn't have to pay this fee. Looks like we've been scammed, time to be more vigilant next time.
Eventually, we're pushing our scooter toward Pura Gunung Kawi, a temple with carved statues in a cliff, rice fields and even a little waterfall where we could swim. A man insist on showing us that fall and tell us to have a swim. Let's be honest, a man waiting for us go swimming is not the best feeling in the world. It could be legit as on the way back we see another group led by a woman, but it feels somewhat fishy.

Dante told me later that the same thing happened with them in the Philippines and the guy was taking pictures. Anyway, we refuse.
At the end of our stay in Ubud, we meet a lovely group of guy from Belgium, but we already leave for Nusa Penida.
Yet! Let's jump in time first as I'd like to talk about the last two things we did on the main island of Bali: Uluwatu and then with Dante, Candidasa.
While we were in the islands, Aurelie was sick. When we come back on Bali, I go to Uluwatu on my own as she still need some rest. Uluwatu is very famous for its sunset at its biggest temple, where I am going to. Full of monkeys, they are actually my main interest as I don't think that the temple is so great, but maybe because I'm alone for the first time since a long time.
Again, it's full of people, but with the monkeys stealing stuff, it's pretty entertaining.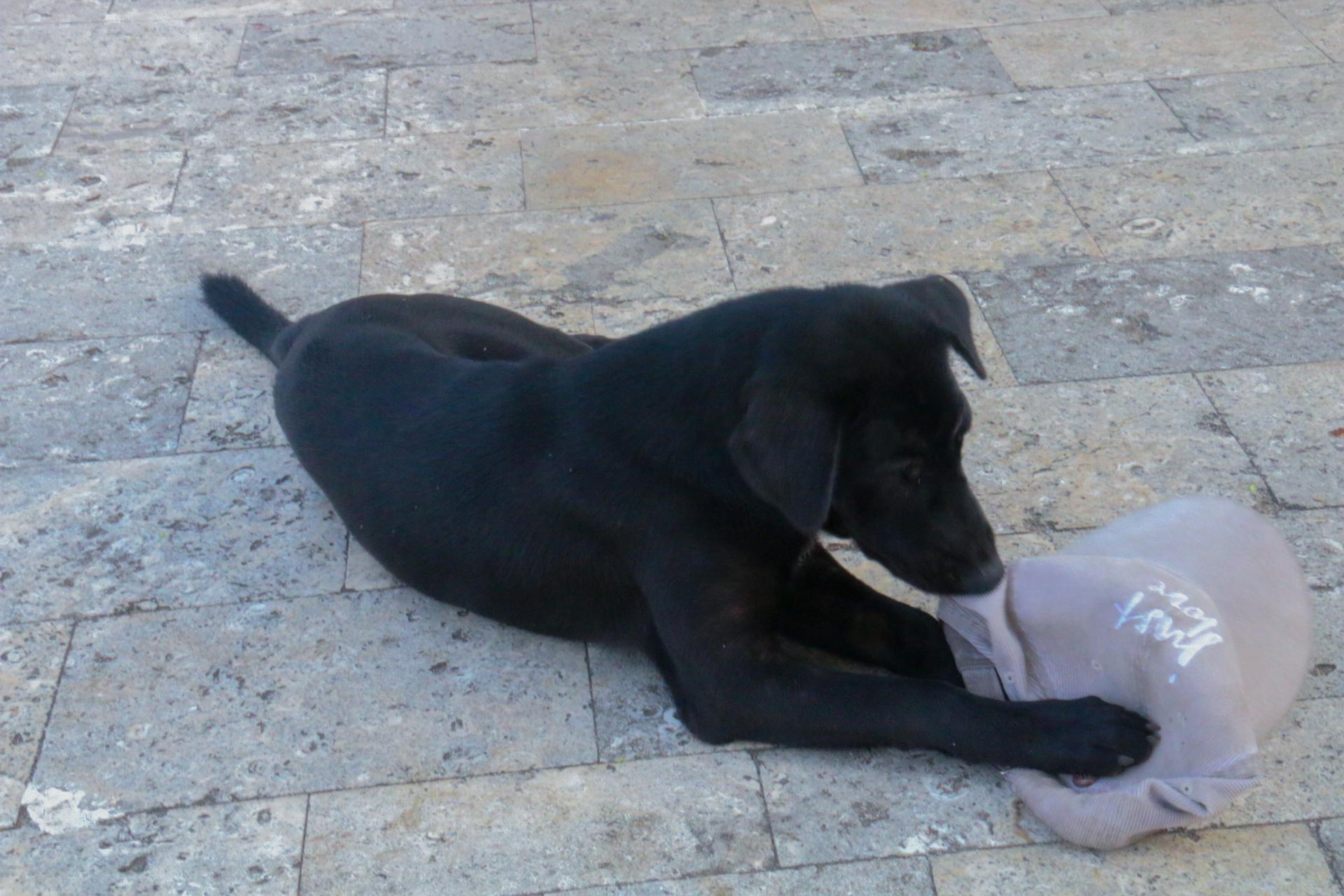 Blue Lagoon & White Sand Beach
Walking around Candidasa is very enjoyable but the place is mostly known for its 2 beaches, Blue Lagoon and White Sand Beach.

White Sand Beach is pretty but my favourite one is Blue Lagoon as snorkeling there is awesome! Corals are alive, big, diversified and there's no need to swim far to find amazing fish. However, jellyfish are also among the party and we've got a feeling of being stung everywhere, therefore we do not stay long in the water…Too bad!
But it doesn't really matter since the best snorkeling we did was on Nusa Penida & Gili Trawangan, which I will talk about in the next article.
Related
You May Also Like
11/06/2019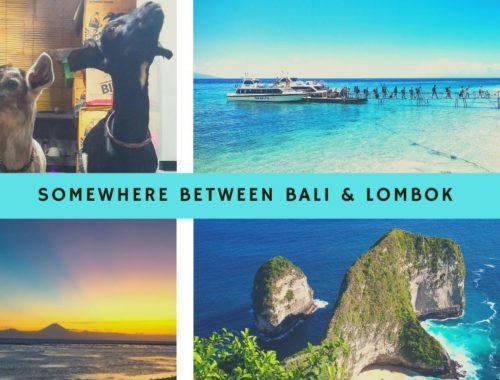 31/07/2019